First of all, good news for Indians, India's men's weightlifter Lovepreet Singh won the bronze medal in the 109 kg category at the CWG 2022. With this, India has a total of 14 medals in the medal tally.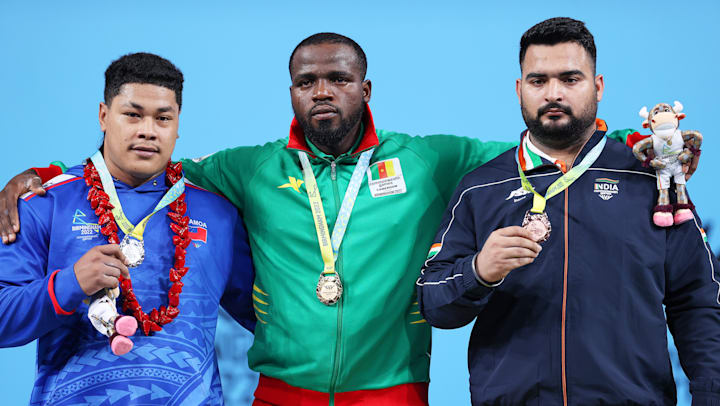 #CommonwealthGames2022 | India's Lovepreet Singh wins bronze in men's weightlifting 109 Kg weight category with a total lift of 355 Kg. pic.twitter.com/PkBqgrVaE5

— ANI (@ANI) August 3, 2022
Started the last day of weightlifting with Lovepreet Singh very strongly. He secured a bronze medal by lifting a total of 192 kg to finish third.
Lovepreet, a 24-year-old Indian weightlifter, raised the bar before two additional competitors competed later in the day. He successfully completed all six lifts on his way to setting a new Clean and Jerk National Record. Lovepreet began his first snatch attempt with a lead of 159 kg, and after a little fight, went into the lead with an effort of 161 kg. When the weight was increased by two kilogrammes later, he effortlessly lifted 163 kilogrammes and celebrated with a thigh-five.
Lovepreet had to lift 185 kg in the Clean and Jerk, which he completed effortlessly. He improved it with a graceful 189-kg lift that required little fuss. In his final attempt, Lovepreet lifted 192 kg, shattering his own National Record in a matter of minutes.
Let us now know about Lovepreet Singh.
24-year-old Lovepreet Singh is serving in the Indian Navy. He started his sporting career with Navy Weightlifting in 2010. He has won gold at the Junior Commonwealth Championships in the 105kg category and bronze at the Asian Youth Championships in 2017.
Lovpreet Singh Biography
Age: 24
Date of Birth: September 6, 1997
Hails From: Amritsar, Punjab
Teams: Indian men's weightlifting team
Role: 109 kg weightlifter
Lovepreet Singh Achievements: Lovepreet Singh has won many medals for India at the international level:
Bronze medal at the Birmingham Commonwealth Games 2022

Silver medal at the 2021 Commonwealth Weightlifting Championships

Bronze in Asian Youth Championships 2017